I must admit that there is a part of me that loves the fact that Hosni Mubarak attempted to turn off the internet in Egypt.
Not because I want to see him succeed or disagree with Fred Wilson's fear that a revolutionary technology which, in 20 years, has become essential to global communication, commerce and social interaction can be shut down with a half dozen phone calls in a nation of 83 million people.
Its just that I don't think it can be. I don't believe such a tactic can be used effectively politically as it reveals weakness and vulnerability more than power.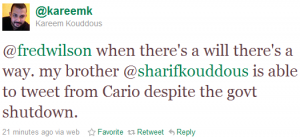 I see this epsisode as an unintended but gargantum scientific experiment that had to come sooner or later.
We are testing Hosni's Law which states that once an autocrat attempts to turn off the internet, it is too late for him.
If he falls, it will serve as caution to other autocrats. They will recognize that this is not an option.
Remember when we used to call it the World Wide Web?
It was a hokey name and we were naive but it captured the spirit and the force of what was coming. With every new interconnection, the web grows more robust and there are many new interconnections occurring every moment.
I have no idea what leadership will replace Mubarak's rule.  Its complex and I am not an expert. But I do know that if he falls here, one small but important lesson of this unfolding drama will have affirmed the resiliency of the web.